Analytical Balances (HM-120A)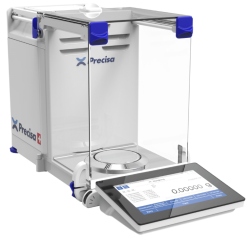 Analytical Balances (HM-120A)
---
The new Precisa touch screen balance gives you easy access to all the functions of the balance right at your
fingertips. No more need to page through lengthy manuals. Now you can easily access applications programs.
Versatile connectivity options are built right in, or can be easily added as your needs expand. The state of the
art weighing mechanism and signal processing allow the weighing results to be generated faster. The protective
weighing chamber keeps powders and liquids from contaminating the weighing system. The weighing chamber
can be removed easily without tools, to be thoroughly cleaned. Draft shield guide rails have been eliminated to
facilitate cleaning. Routine work and repetitive processes can be run faster, easier and more accurately.
---